eCommerce Service's Market Size in China
eCommerce Services Market in China is 237.8 billion ¥ in 2012
My first article was about Internet and eCommerce Trends in China, in this article I will try to write about the emerging Third Party eCommerce Service Providers Market Size in China. Since my current company is one of the leading eCommerce services provider in China, it was very important to really gauge the size of 3rd party eCommerce service providers market in China. Initially what seemed easy, turned out to be very difficult. Given the myriad of options and ways retail and consumer brands in China were approaching eCommerce, there is no clear way to estimate the size. There were very few reports and most of them were not based on solid data or research (mostly estimations on limited surveys). If someone is interested they can refer to one such report from Mckinsey China's e-tail revolution [1], and refer to page 18 and 19. Partially the unavailability of research and solid data motivated me to write this article and share my way to estimate the size of the market. Hopefully the readers of this article may provide me with active feedback on how to improve it or point me to solid methodology, research or data.
Introduction
China is one the fastest growing eCommerce market in the world [2] and for successfully running a B2C eCommerce operations in China, traditional retail and consumer brands (which already have experince in offline commerce in China) needs additional expertise in:
Softwares and IT systems - which powers their ecommerce site, 3rd party market, digital marketing, customer services, logistics and supply chain management, online payment services, finances etc.
Operational expertise in Supply Chain Management, Warehousing, Logistics and Reverse Logistics which helps in managing pick, pack, dispatch, delivery, returns management. Also optionally helps in Vendor Managed Inventory, Drop Shipments, Convenience Store, Corner Stores or Self Store for Pickups and returns. This is in additiona to their expertise in storage, bulk transport and cross-docking they use for their traditional offline store fullfilment.
Digital Marketing - Using internet and digital media for marketing, campaigns and brand awareness. This expertise can also complement their offline retail operations. Additionally for eCommerce they will need expertise to drive traffic and sales using process and tools for Search Engine, SEO, 3rd Party Aggregators, Price Comparison sites etc.
Finance and 3rd Party Payment Process - Since online commerce require additional financial process for revenue, payment, reconciliation, profits, returns etc. Like in offline commerce when customer purchase goods in store, they can directly be recognized as revenue, since the goods are already delivered to customer. But in case of eCommerce different companies have different process, some recognize revenue as soon as the goods are given for delivery, some recognize it as soon as the payment is received, some recognize it once the customer receives the goods and they have received the notification from delivery system (either run by themselves or 3rd party).
Customer Services - eCommerce puts additional burden on managing a good customer services. Also good customer services is one of the key success factors for any decent eCommerce operations. Given the Internet users in China use mostly Instant Messaging, Weibo besides phone. Traditional retail and consumer brands either needs to build this capacity or use some third party provider for it.
Given the current state of development and availability of human resources in this areas of expertise in China, it might look daunting for traditional retail and consumer brands to start eCommerce operations in China. So many of these traditional retail and consumer brands started, by outsourcing part of these expertise to one or multiple Third Party Service providers in China. This led to proliferation of such service providers with varied level of expertise and service offerings to flourish in China. This in turn created a new business segment called "Third Party eCommerce Services" in China. One of the main driver for this market is also Alibaba with its Tmall and JinDong (formerly 360buy.com).
Explosive growth of eCommerce in 2010-2012 resulted in explosive growth of such providers in China. But as the market mature and more and more traditional retail and consumer brands starts building their expertise, such providers are under heavy margin pressure. In order to survive they need to constantly innovate and bring down the costs by building new softare and IT systems and add value to the eCommerce Services offered to retail and consumer brands.
Overview of eCommerce Services Market in China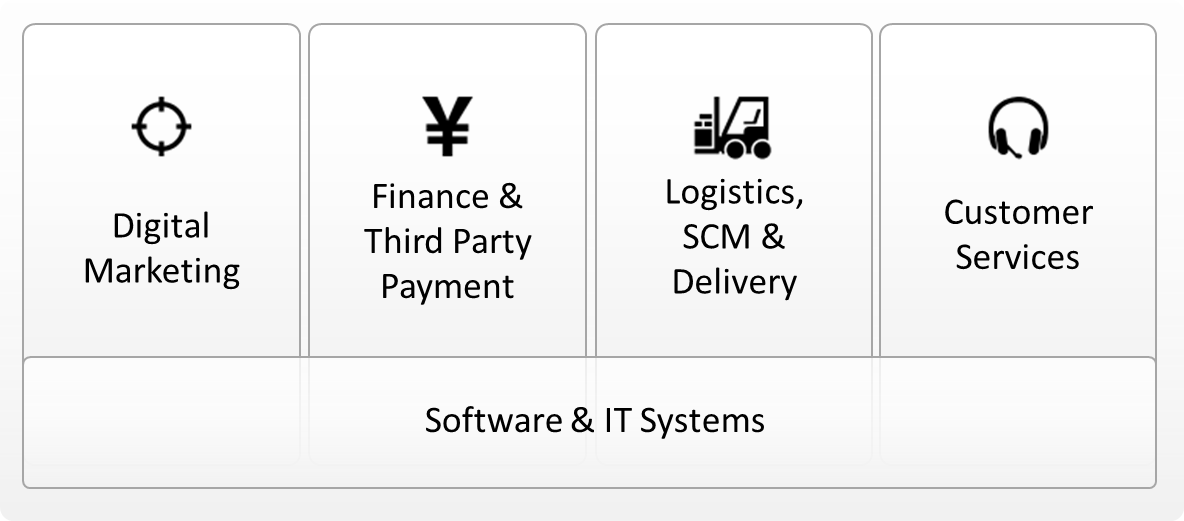 Third Party eCommerce Services market consists of service offering in following areas:
Software and IT Systems - Example provider includes:

Traditional Systems Integrator like Accenture, arvato systems and their software and technology partners like IBM, hybris, Magento etc.
Third Party marketplace provider like JinDong (formerly 360buy.com), Taobao, Tmall, eBay etc.
Specialized Software provider for eCommerce connecting specialized service providers and their services together like arvato systems aroma, ShopEx etc.
Most Traditional Retail and Consumer Brands outsource it in build phase and some during operations phase

Digital Marketing - Examples provider includes:

Traditional Marketing Agencies like WPP, Ogilvy and others which have specialized division for digital marketing.
Companies providing specialized platform for digital marketing like Google, Baidu, Weibo, Tencent etc.
Companies providing specialized software for digital marketing like Adobe, IBM.

Finace and Third Party Payment - Example provider include:

Traditional Payment Provider like AliPay, TenPay, YeePay, UnionPay, Banks like CMB, ICBCetc.
Fraud detection and payment reconciliation provider like arvato, Cybersource.

Fulfillment (Logistics, SCM & Delivery) - Example provider include:

Companies like SF Express, Yunda, ST (ShenTong) Express, UPS, FedEx, DHL etc.
Companies like arvato, BaoZun, JinDong (formerly 360buy.com).

Customer Services - Examples provider include:

Companies like arvato, BaoZun, PCCW, 360Buy.com, Accenture etc.
Companies providing specialized software for Customer Services like Live800, Oracle Siebel etc.
Due to intense competition in Third Party eCommerce Services business segment most providers try to increase their revenue streams by trying to provide integrated eCommerce services either by building their own integrated stack or partnering with specialized providers. For example arvato is trying to build their own integrated eCommerce Services stack and on the other hand Accenture is providing integrated eCommerce Services by partnering with JinDong with its customer services, logistics, payments and platform, combined with their own Software & IT and Digital Marketing Services.
Third Party eCommerce Service Market Size
Based on the above chart and the myriad of options and services under the umbrella of "eCommerce Services", make it difficult to estimate the size. My methodology for calculation of Market size is based on projected B2C ecommerce market revenue. So to come up with the market size first analyzed the spending by Traditional Retail and Consumer Brands with following assumptions:
Most of the traditional retail and consumer brands who are engaged or wants to engage go through buid phase and operations phase and for the market size determination its assumed that at any given time 10%-15% organization are going through build phase and remaining through operations phase. Since the percent weight for each area of expertise for service providers vary depending on the phase. So I take average 12.5% in build phase.
Digital marketing in eCommerce is classified as Customer Acquisition Cost - In build phase retail and consumer brands are willing to spend 7.5% of order value and for operations phase pay approximately 2.5% of order value according to digital marketing by gartner [3]. According to Amazon 10-K [4] filings they spend net 3.8% of their revenue for marketing in 2012. So for our estimation purpose we take 7.5% for build phase and 3.15% for operations phase.
Usually in China for third party payment providers charge between 0.5% to 1.2% and for reconciliation and other financial services it may additionally increase to 1.5%-2% of the order value. For the purpose of estimation we will use 1.75%.
Fulfillment (Logistics, SCM and Delivery)- most efficient estimates is around 10.2% of the total order value, so for estimation I will take 10.2%.
In order to provide a decent customer services and to retain the customers (since customer acquisition costs 2 to 3 times more then retention) the spending by retail and consumer brands should be 1.3-1.5% of the overall online B2C revenue. Since customer services is one of the key aspects of online retail, I tend to choose 1.5% of the total market size.
Since eCommerce is technology driven and requires extensive software and IT systems the overall share of technology spending is very high. So during the build phase the overall spending on Software and IT systems is around 10-12% and during operation is around 6.8% (based on estimates from Amazon 10-K [4] filing). So for the purpose of market size estimation I will use 11.5% during build phase and 6.8% during operations phase.
Based on the above assumptions the table below shows the spending by online retailers in different areas of expertise to support B2C sales volume of 1260 billion yuan in 2012.
 
 
 
B2C Market in 2012 [2]
1260 billion ¥
Digital Marketing
(12.5%x7.5%x1260) + (87.5%x3.15%x1260)=
46.8 billion ¥
Finance & Payments
(1.75%x1260)=
22.1 billion ¥
Fulfillment
(10.2%x1260)=
128.5 billion ¥
Customer Services
(1.5%x1260)=
18.9 billion ¥
Software & IT Systems

(12.5%x11.5%x1260) +

(87.5%x6.8%x1260)=

92.7 billiion ¥
Total Spending to Support B2C Market
308.8 billion ¥
So in order to manage a B2C market size of 1260 billion ¥, Traditional Retail and Consumer Goods needs to spend approximately 308.8 billion ¥. Based on this, following is the market for individual areas for eCommerce service providers:
So based on this estimates the overall Third Party eCommerce Service Market Size is (46.8+22.1+128.5+18.1+22.3)= 237.8 billion ¥.
But take it with caution, since many of the revenue % share can be dramatically different based on industry and also can be changed by advances in Software and IT Systems. Also not all of this spending will translate into outsourcing to Third Party eCommerce Service Provider, so actual market might be smaller then this. But I feel this estimation can provide a logical framework for others to determine the market size. Funny enough the market size based on this estimation is 18.9% of the total B2C volume, and also if you look at any typical online eCommerce retail like Amazon, JinDong, YiHaoDian you will notice their operating expense is similar between 18-23% for the above eCommerce Service Areas. In hindsight I should have just mapped Amazon 10K reports for 5 years and by finding the average operating expense % of sales revenue would have given the estimation of spending to support a given B2C volume.
Footnotes
| | |
| --- | --- |
| [6] | Glyph Icons used in article are licensed under Creative Commons 3.0 courtesy Austin Andrew WindowsIcons |