Internet and eCommerce Trends in China
Internet Users: 564 Million

Mobile Users: > 1 Billion
China is already home to largest number of internet and mobile users in the world. Soon it will also overtake the crown of largest eCommerce market in the world. As part of my job, I work on analysing broader trends in digital transformation and Internet in China; primarily to help my current company in defining roadmap and fine tuning business strategy for coming years. During the course of my research in analysing trends, many resources proved useful, and I thought its necessary to share some of the things I learned durign my work. So in keeping with the traditions of knowledge is power when shared, I started this series of articles to share some of my findings and insights. Hopefully some people may find this information useful. Hopefully I can also improve this article and my knowledge by feedback through comments.
This is the first article in this series in which I will discuss Internet and eCommerce trends in China.
---
Introduction
Its 11:50 PM on 10th November 2013 and Lee MingSha, a 26 year old girl, is eagerly waiting for clock to turn 00:00. It will be a unique day in the year when both day and month are 11. This day is also called Double 11 in China and on this day most of the online retailers offer special discount and deals to celebrate singles day. As the clock turned 00:00, Lee MingSha went to the site of online retailers; where she already placed the items in the basket and start finishing the check-out process. Some went smooth and others need retry or updates. This day she spends more than she will spend in the entire year including Chinese New Year. Obviously most of the sales were driven by discounts and special offers, but it brings windfall of revenue not just for online retailers, but also for more then 217 Brands and traditional retailers participating in it.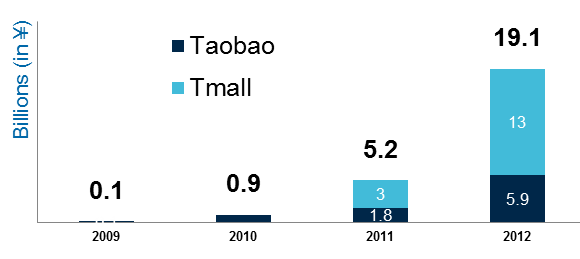 The combined sales of only Alibaba, which includes Tmall and Taobao, was RMB 19.2 billion (US$ 3.08 billion) more than the entire Cyber Monday in USA. Obviously it was not all cakewalk as there were periods of unstability on the online platforms due to unexpected surge of orders and traffic. This was a sudden wake up call for most of the traditional retailers and consumer brands, of changing digital and internet landscape in China. According to the latest report [2] from CNNIC:
By the end of December 2012, China added 50.9 million new Internet users to reach a total of 564 million. This represent a growth rate of 3.8% compared to 2011 and Internet Penetration of 42.1%.
By the end of December 2012, China added 64.2 million new Mobile Internet Users, reaching a total of 422 million Mobile Internet Users.
By the end of 2012, China added 19.6 million Rural Internet Users to reach 156 million, representing 27.6% of the total Internet users in China.
The ratio of Internet users (participating in Survey) using Desktop to access dropped to 70.3%, a drop of 3% compared to 2011. The ratio of Internet users using laptops dropped slightly to 45.9%, a drop of 0.9% compared to 2011. The ratio of Internet users using mobile phones rose to 74.5% from 69.3% in 2011.
China had a total of 13.41 million domain names, including 7.51 million ".CN" domain names and 283,484 ".中国" domain names.
The total number of websites, i.e. the number of websites registered by the registrants of website domain names, continue to grow reaching 2.68 million.
By the end of December 2012, the ratio of the interviewed small and medium sized enterprises (SMEs) depending on computer-based offices reached 91.3%, and with access to Internet reached 78.5%.
The penetration rate of fixed broadbandamong SMEs hit 71.0%.
The proportions of online sale and online purchase among SMEs stands at 25.3% and 26.5% respectively.
The ratio of SMEs employing internet to carry out marketing and promotion reached 23.0%.
Key Internet Trends in China
Internet Users
China has become a major internet market with increasingly sophisticated users. By 2015 it will add another 200 million users reaching over 700 million users double the number of users of US and Japan combined. On an average internet users spend 20.5 hours/week online. China also witnessed an explosive growth in mobile internet users and reached 422 million in 2012.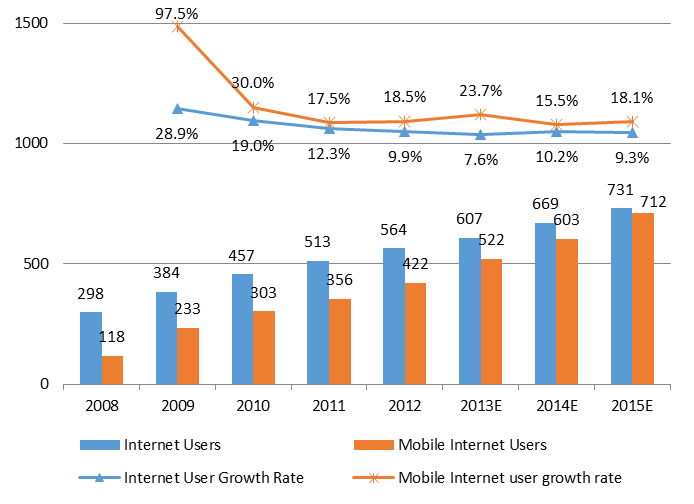 Internet eco-system and applications in China
China is a huge online market, but it's not an easy one. The online eco-system in China is highly complex and due to regulatory and cultural differences there are several competing systems for every major global internet services . The big three Internet companies - Alibaba (with Taobao, Tmall and Alipay), Baidu and Tencent (with Weixin, QQ), have a firm hold on their corners of the market (eCommerce, search, and messaging, respectively). They are working hard to consolidate their positions and move into new fields. There are many new upcoming internet companies which are always challenging the dominant position of these companies with the recent addition of Sina (for its weibo service), JinDong (earlier known as 360buy.com) for e-Commerce services, Youku for online video. China's online eco-system is highly dynamic and most global players' market share is relatively small. The picture and the table below illustrate China's dynamic internet online eco-system.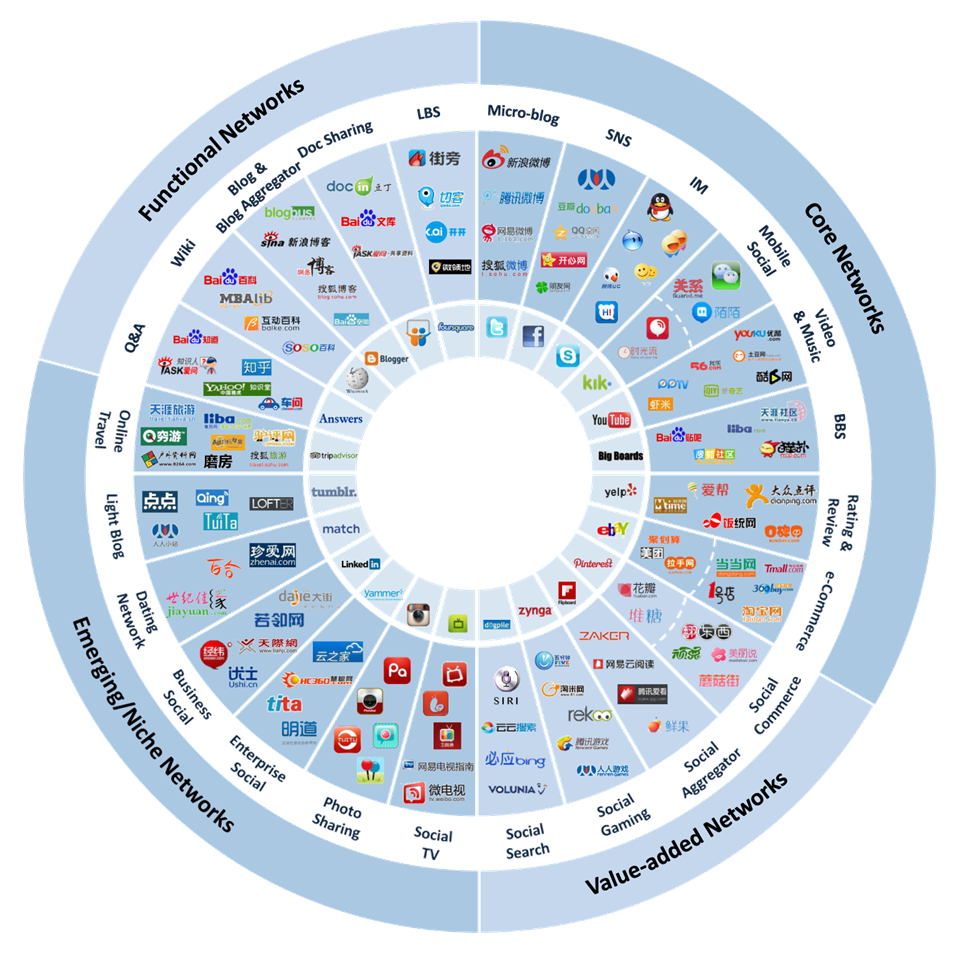 | Application | # of User | Usage Rate |
| --- | --- | --- |
| IM | 468 million | 82.90% |
| Search | 451 million | 80.00% |
| Music | 435 million | 77.30% |
| Blogs | 373 million | 66.10% |
| Video | 372 million | 65.90% |
| Gaming | 336 million | 59.50% |
| Microblog | 309 million | 54.70% |
| SNS | 275 million | 48.80% |
| Email | 251 million | 44.50% |
| Shopping | 242 million | 42.90% |
| Travel Booking | 112 million | 19.80% |
| Group Buying | 83 million | 14.80% |
Following are some of the highlights of key trends in China which will impact companies operating here.
Internet has replaced newspaper and in some cases even television as the medium with the highest daily reach in urban areas. Indeed now television has dedicated shows which cover hot Weibo tweets, news and trends on Internet in China.
Majority of the internet users spend most of their time on entertainment activities like IM, Music, Video, Gaming and Shopping. Internet is slowly replacing television as the primary entertainment medium among young Chinese between 10-40 years in urban areas.
With 468 million users IM (instant messaging) is the most effective way for communitcating with potential customers for companies. This is a primary difference between western and Chinese market where instead of email, people prefer real-time instant messaging or mobile phone for customer support services.
According to a survey half of the Internet users say that the Internet is their most trusted source of information, followed by television at 30 percent and 15 percent for newspapers.
Although there is a shift within society towards Internet as primary medium for entertainment, retailers and brands still spend more money on traditional advertising.
Companies with ambitions in China should have a strong Internet presence and strategy. Internet and technology will no longer be supporting function, but will become part of the core functions similar to sales, marketing and operations.
Key eCommerce Trends
China's online eCommerce market is witnessing a double digit growth outpacing the retail sales growth by over three times. China is poised to become the biggest online marketplace in the world within next few years. According to multiple estimates, China has an estimated 242 million online shoppers, more than any country [2]. By 2015 most of those consumers will be spending around ¥6,350 (US$ 1,000) per year online, same as the current 170 million online users in US spends annually. According to multiple estimates (like from national statistics bureau), the online shopping would account for approximately 9% of total retail sales.
A number of factors are driving the growth which are:
Rising middle class which is expected to be 800 million form 200 million in next 20 years.
Government subsidized, high-speed broadband Internet access and Internet connected cellphone.
Larger pool of potential online shoppers from 513 million to over 700 million by 2015.
Improvement in the logistics and delivery network.
Improvement in wages and salaries which results in a larger disposable income
Following are some of the key eCommerce and Retail sales trends in China.
Consumer brands and Retailers will need to adjust to this digital transformation in China. Following are some of the key defining technical trends in the coming years in the Retail and consumer brands industry in China, some of which applicable to global industry:
Retail technology investments in 2013-2015 will focus on allowing customers to find what they are looking for in the way they choose to look for it - in-store, online, social networks, third party markets like TaoBao, or via smartphone or tablet pc's.
The challenge of online and mobile marketing will be to find a way to get invited into consumers' social media circles, where consumers have complete control over their interactions.
Mobile commerce and social network commerce will become mainstream in coming years and many traditional internet companies like Tencent, baidu, Alibaba, JD (formerly known as 360buy.com), and Amazon China will be battling for virtual retail turf. Retailers will benefit from virtual retail channels without having to invest significantly in technology for development.
A lot of investment in technology from retailers will be spend in capturing the attention of digital consumers by combining social, mobile, and local strategies in their digital platform and use it consistently for offline and online branding, loyalty and marketing programs.
The most successful retailers will be the one's who provide an immersive, customer-centric, and superior shopping experience on all channels.
More and more retailers will use mobile technology to push messages, coupons, and promotions to customers and pull them in shopping floor, whether it's a physical or virtual shopping floor.
Retailers will adapt and use technology like Weixin, Weibo, instant messages, push notifications (like SMS, EDM), not only to broadcast messages, but also to LISTEN to consumers voices. The successful retailers will be the companies who not only broadcast, but LISTEN to the messages from consumers using innovative information technology.
In next 10 years the retail will move from delayed to real-time information on products, orders, customers, promotion and inventory.
Technology would become the core function of the retailers and consumer brands, to reach the new tech savvy internet generation.
Retail organization would have integrated commerce strategy which doesn't distinguish online and offline separately, but as integrated channel.
Online, Offline, Mobile, social and local presence would become necessity from need today.
Brand loyalty and trust requires omni-channel presence.
Online commerce and direct to consumer initiatives for retail and consumer brand companies would become necessity in next 5 years due to proliferation of technology in daily life.
Tomorrows consumer demand always on real-time offline, online, social, mobile and local commerce.
Life Time Value (LTV) will directly dependent on integrated commerce strategy.
Footnotes
| | |
| --- | --- |
| [1] | Tmall.com and Taobao Marketplace set a record for highest single-day transaction volume during a special promotion on November 11, 2012, facilitating the sales of goods totaling RMB19.1 billion (US$3.1 billion) on the day. In 2012, the combined gross merchandise volume (GMV) of the two platforms exceeded RMB1 trillion. Alibaba Group News |